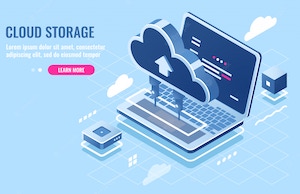 Online cloud storage is a virtual place where you can upload files and documents for safekeeping. They'll be available to you from almost anywhere and won't take up any space on your computer. You don't need much time or special expertise to start using online cloud storage; all you need is an internet connection and a user account with one of the services listed below. Online cloud storage services have many benefits, especially for people who store sensitive data online, like business users, journalists, and researchers. Using an online storage service means there's no risk of physical fire or flood destroying your data. It also means you can access your files from anywhere with an internet connection. If that sounds useful to you, read on to learn more about what these services are, how they work, which ones are best for different use cases like businesses or individuals, and how you can use them effectively.
What is online cloud storage?
Online cloud storage is virtual, internet-based data storage that's often accessed through a website or mobile app. Cloud storage services let you upload data like documents, photos, videos, and other files to their servers and access them from any computer or device with internet access. Cloud storage is a great way to store sensitive documents like invoices, financial records, or medical information online and access them from anywhere. It's also useful for backing up files in case your computer crashes or you lose a flash drive. Cloud storage services cost money to use, but prices vary widely. Some are free with limited features, while others charge hundreds of dollars a year for premium plans with extra space and features like collaboration tools.
Why Do We Need Online Cloud Storage?
Online cloud storage has become a necessity for most people, as it provides an easy and cost-effective way to store data. Cloud storage providers offer secure remote data storage on the internet, so that users can access their files from any location by using an internet connection. Cloud backup services are offered by many providers these days and they are used by individuals as well as large corporations to protect their data from loss or damage.
How does online cloud storage work?
Online cloud storage services typically use a combination of hardware and software to store your files in data centres around the world. The services typically encrypt your data using a combination of public and private keys, meaning only you have the decryption key. Each service has different methods for storing your data. Some use a single massive server; others use hundreds of smaller servers. Some use a mix of software and hardware; others use a mix of physical drives and flash storage only. The data centres are kept in climate-controlled facilities with multiple layers of security and regular backups in case of emergencies. Cloud storage services have become incredibly reliable over the last decade as the industry has matured and learned from previous disasters. Most online cloud storage services will have a section on their website outlining the exact details of their security practices.
What to look for in a cloud storage service
There are many different online cloud storage services available. You can use an internet search engine like Google to find reviews and information on different providers. We recommend choosing a service that offers the following:
A user interface you'll understand. The best services make uploading, downloading, and managing files easy for both technical and non-technical users.
Automatic backup of your data. This is essential for keeping your files safe.
Easy mobile apps for accessing your files on the go.
A strong track record. Look for providers with a history of reliable service.
Lots of space. You don't want to run out of space on your account.
A low cost per GB. Cost is a key consideration when choosing a service.
We've selected the most popular providers and rated them in terms of cost, ease of use, and the amount of space available. If you use one of our recommendations, you can rest assured that your files are being stored in a safe place.
Best business cloud storage services
Amazon Drive - Amazon Drive is an online file storage service that lets you access your files from anywhere. You can also use Amazon Drive to collaborate with colleagues by inviting them to view, edit, or comment on your files. Amazon Drive is part of Amazon's wider ecosystem of productivity tools, so you can integrate it with other services like Amazon WorkDocs and Twillio. Amazon Drive is a good choice for businesses of all sizes, with a pricing plan that offers enough space for most companies, starting at $9 per user per month.
Box - Box is one of the most popular file sharing and storage tools for businesses. It offers a wide variety of plans, from free up to high-end plans for enterprises with special needs. You can integrate Box with other business tools like Salesforce or HubSpot for fully integrated digital processes.
Dropbox - Dropbox is one of the most popular file sharing and storage tools. Dropbox's business plan offers enough space for almost any business and is a great option for individuals who need extra space.
Best individual cloud storage services
Google Drive - Google Drive is one of the oldest and most popular online file storage services around. Google Drive lets you store your files in the cloud and access them from anywhere. You can also share files with others and collaborate on documents. Google Drive is integrated with many other Google apps like Gmail, Calendar, and Google Docs.
Microsoft OneDrive - Microsoft OneDrive is Microsoft's online file storage service. It offers over 15 GB of free cloud storage to all users and integrates with many Microsoft apps like Office and Outlook. You can also share files with others and collaborate on documents.
Flickr - Flickr is a popular image and video hosting service that also offers an option for storing files online. With Flickr's free plan, you can store an unlimited number of images and videos and also share them with others.
What to Consider when Choosing Your Cloud Storage Provider
Cloud storage providers are the backbone of the digital world. These providers offer a wide range of services, and it can be difficult to choose which one is best for you. Things to Consider When Choosing a Cloud Storage Provider:
Pricing Model - You might have heard of different pricing models, such as pay-as-you-go, monthly subscription or yearly subscription. Each cloud storage provider offers its own prices and features. You should know the costs associated with the storage size you need before choosing a cloud storage provider to avoid overspending on extra storage. As an example, you might think that buying 1TB of storage is better than 500GB of space because it is less expensive. However, you might not use the space in your storage because it is larger than what you need. A recurring cost of cloud storage is the capacity and bandwidth on which the files are stored.
Data Security - Cloud storage providers have varying levels of data security. Some cloud storage providers offer more security by encrypting the files and storing them in multiple locations. While other cloud storage providers offer less security with files being stored in one location only. You should be aware that when you store your data in a cloud provider's servers, it is not impossible for a hacker to gain access to your information stored there though it is extremely difficult.
Privacy Considerations - Cloud storage providers require different levels of privacy. Some cloud providers offer full control over the privacy of your files, while others do not provide any form of encryption for your data. When considering a cloud storage provider, make sure you read their terms of use to determine what level of privacy they provide. Cloud providers also have different tiers in regards to the amount of storage and privacy that you are provided.
Is online cloud storage right for you?
Online cloud storage services are a great way to protect and share your files. They're secure, easy to use, and can be accessed from almost any device with an internet connection. If you're still unsure about which service is right for you, try searching for reviews and reading through customer testimonials. You can also ask friends or colleagues which services they recommend.