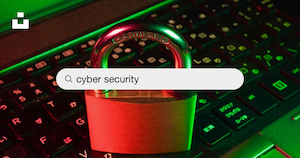 There is no such thing as too much security, especially when it comes to protecting your company's sensitive data. Unfortunately, cyber threats are on the rise and hackers continue to find new ways of infiltrating computer systems. The best way to protect your data is by implementing comprehensive security measures, which may seem like an overwhelming task. However, there are many simple actions you can take right now to safeguard your business and its sensitive information. Implementing these best practices will not only help you implement stronger security measures but also improve the overall security of your network so that you can rest assured that everything is being handled properly.
What are the Main Types of Computer Security Software?
Since we are going over computer security software, let's get into some specifics.
Network security - This typically refers to the hardware used to control network access. It's used to manage authentication and can also be used to restrict network traffic.
Endpoint security - Many businesses have moved away from on-premise endpoint Security Solutions and are instead choosing to use Cloud-based solutions. These tools are designed to prevent threats from being introduced to the network and can be used to scan systems for malicious files.
Data security - Data security is a critical part of protecting your business. You should make sure that sensitive data is encrypted at all times and stored in a secure location.
Cloud security - Cloud security is a growing field and is used to protect against threats in the cloud. This type of software works to identify threats and then take action to neutralize them. It's also important to make sure that you trust the provider of your cloud services.
Ensure Strong Authentication
The first step in any computer security software is to ensure that authentication is strong. Strong authentication involves the use of something you know (such as a password or passcode) and something you have (such as a fingerprint or biometric ID card). The best way to ensure strong authentication is by rotating your passwords regularly. And remember to use a different password for each account. While passwords are the most commonly used form of authentication, they don't provide the strongest protection. Instead, consider using two-factor authentication or biometric identification to strengthen your authentication. These systems work by requiring you to enter your login information and then provide a secondary form of identification (such as a fingerprint scan) to verify your identity. This type of authentication is ideal because it makes it much more difficult for an outside party to access your account.
Patch Your Systems
Another critical requirement of computer security software is that you patch your systems regularly. This means that you should install any software updates as soon as they become available. Software updates are designed to fix bugs, glitches, and other security flaws, so you must install them as soon as they are released. Otherwise, you are leaving your systems vulnerable to attack. Patching your systems is an easy process and can be done from within your software settings. And it only takes a few minutes to complete. With that being said, you must keep track of when patches are released. You should look out for notifications from your software providers that notify you of new updates. These notifications are usually sent via email and can be found in your mailbox or spam folder. It's also a good idea to schedule regular patch scans so that your systems are always secure.
Have Strong Firewalls
Another important aspect of computer security software is to have strong firewalls in place. A firewall is a system that controls which information and data are allowed to enter and exit your network. It's often used to prevent malicious software from being downloaded and also prevents hackers from accessing your systems. Firewalls can be either hardware or software-based and are installed at the network level of your business. They can be used to filter traffic, restrict access to certain systems, and block certain IP addresses. Firewalls are an essential part of any business computer security software, but you should make sure that you choose the right one. Some firewalls can be highly effective at blocking unwanted data and malicious threats, while others are not so effective. Make sure you do your research before purchasing a firewall to ensure that it will adequately protect your systems.
Encrypt Everything
Another important part of computer security software is to encrypt everything. This means that you should use encryption when sending data over the internet, storing data on your computers and other devices, and when backing up sensitive information. If you fail to encrypt your data, it will be much easier for hackers to access it and steal sensitive information. Fortunately, encryption is now easier than ever before. You can encrypt your data by uploading it to the cloud, storing it on a secure network drive, or by storing it on a secure computer. Be sure to look for an encrypted device that meets government standards for encryption. This will ensure that your data is secure and can't be read by anyone else without the right credentials.
Rotate Your Passwords and Use Better Account Management
The last thing on our list is to rotate your passwords and use better account management. It's recommended that you rotate your passwords regularly. Experts recommend that you change your passwords every 90 days, but it's up to you to decide how often you want to do this. You mustn't wait until you forget your passwords before you change them. Instead, you should use a password manager to help you keep track of your passwords and change them at the appropriate time. You can also use an account management platform to help you manage all of your online accounts and make sure that they are secure. These platforms allow you to store all of your login information in one place so that you don't have to remember all of your different passwords.
Conclusion
Computer security is an important part of protecting your business and its sensitive information. The best way to safeguard your network is to implement comprehensive security measures, which may seem like an overwhelming task. There are many simple actions you can take right now to improve the overall security of your network so that you can rest assured that everything is being handled properly.