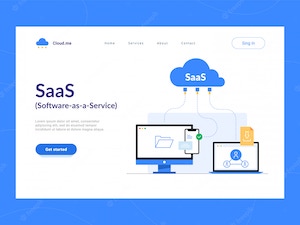 The internet has opened up new ways for businesses to operate and reach customers. One of the biggest trends in business technology over the last several years has been cloud computing. Cloud computing allows companies to rent programs or services online rather than buy them directly or install them on-site. To put it simply, instead of storing data and programs locally, you can access them from the cloud remotely. This makes it possible to access files from any computer or device that's connected to the Internet, provided you have the right login information.
Cloud Computing Software - What is it?
Cloud computing is the delivery of services and software over the internet using remote servers accessed through the internet. Cloud-based software, for example, allows users to access programs over the internet through their computers or mobile devices instead of keeping them installed on their devices. Cloud services can be used for almost any type of business. Some of the most common cloud services are web hosting, email hosting, data storage and software as a service (SaaS). Cloud computing is a term typically used for services where the company hosts their program on their servers, and then you access it on your computer or device. Cloud computing software doesn't require you to install anything on your computer or device other than a normal web browser, or possibly a small app. You can access the main program and data online via the internet.
Why Use Cloud Computing Software?
Cloud computing allows businesses to access their data, applications and software from anywhere. This can be particularly helpful if you're managing a team who works remotely or if you have clients who are located across the globe. By using cloud computing software, you can ensure that all of your important information is always accessible. This can also help you save on IT costs since you don't have to buy expensive computers and software. Instead, you simply pay a monthly fee for access to the cloud. Cloud computing is also more scalable than on-premises solutions, so you can more easily increase or decrease your investment based on the needs of your business.
How Does Cloud-Based Software Work?
Cloud computing involves connecting to a network run by a remote server. You can then access the network through the internet or an internal network. This allows you to store your data, programs and files remotely. Cloud-based programs are always accessible regardless of where you are or what device you're using. This is a major advantage of cloud computing software compared to on-premises software, which requires you to install software on a computer. When you use cloud computing software, you can also use a variety of tools to collaborate with your team from wherever they are. This makes it easier to manage remote workers, no matter where they're located.
The Benefits of Using Cloud-based Solutions for your Business
Managing a business involves a lot of different aspects. You need to keep track of your finances, manage employees, and more. Cloud computing software can make it easier to manage all of these tasks. Cloud-based solutions can help you manage your finances with online accounting software. You can track sales, expenses, payments and more, no matter where you are. Cloud-based CRM software can help you manage your team or clients more effectively. You can create projects, track tasks, organize contacts and create follow-up lists. Everything you can do with computer-based software but with all the benefits of the software being online and accessible from anywhere by multiple people.
When to Use On-Demand Software
On-demand software works similarly to hosted software, but you have more control over it. You can install it on your computer or your server, or you can keep it on the vendor's servers. This is ideal if you plan to use the software long-term. You can use on-demand software if you need to integrate the software with other software or if you need to customize it.
When to Use hosted software
Hosted software is a type of SaaS (Software as a Service) that you run from your computer. You don't need to host it on your server. It's usually more expensive than other types of SaaS and requires more maintenance. Hosted software is a good option if you want to avoid dealing with your computer's operating system. You can run the program in its environment. This is helpful if you don't know how to use your computer's OS or if you have a lot of other programs installed.
When to use Platform as a Service (PaaS)
PaaS is a type of SaaS that you build in. This gives you more control over the code, but you may need to know how to program. With PaaS, you can build, run and scale your software quickly, without having to manage your servers.
When to use Infrastructure as a Service (IaaS)
IaaS is a type of SaaS where you rent an entire server. You're responsible for managing it and ensuring it meets your needs. If you don't know how to use a server, you'll probably want to avoid IaaS or bring in some relevant expertise.
The Importance of Cloud Computing in Today's Digital Age
Cloud computing is more important than ever now that the internet has become such an essential part of our daily lives. There are more than 2 billion people online, and the number continues to grow. That means that there are more opportunities than ever to make money as a business or to do your job efficiently. But it also means that the competition is higher than ever. One of the best ways to keep up with the competition is by investing in cloud computing. It is a technology that has already proven its worth, and it is expected to grow even more in the future. By partnering with a cloud computing company, you will have access to technology that can help you become more efficient as an individual or as a team. And that can make all the difference in your success.
Conclusion
Cloud computing is now a critical part of how businesses operate. It has evolved from something that only large corporations could use to something that small businesses can easily integrate into their operations. The ever-increasing importance of digital technologies means that cloud computing will only become more important in the future.